Here at Pet Doctor Woodville & West Lakes, we are big supporters of the Greyhound Adoption Program SA (GAPSA). The amazing team at GAPSA are dedicated to finding homes for retired and non-racing Greyhounds and to educate the public about the gentle nature of the breed. One of the Greyhounds GAPSA have helped on his way to his furever home is Pancho.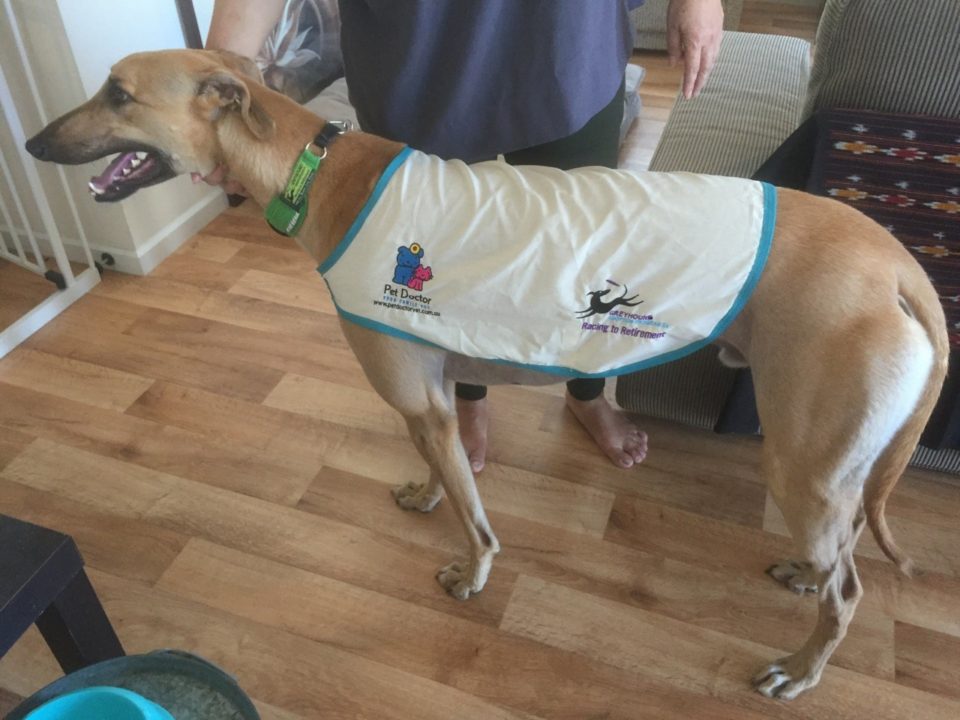 Pancho is a lovely boy who had quite severe problems with hypothyroidism. He had a very rough coat and large bald patches on his thighs and belly. He was a fairly anxious fellow and needed a calm and consistent environment, a healthy diet and a very clear routine that involved reward-based obedience classes. GAPSA volunteers Margaret and Roy took him in and has worked wonders to make him the strong, healthy boy that he is today – thanks to their gentle, calm nature. Pancho's improvements in just 3 short months wowed his new foster Mum and Dad so much that you wouldn't even know he ever had a health problem.
Pancho is just one of  GAPSA many success stories. Thanks to the incredible and tireless work of the GAPSA volunteers, they are now successful at rehoming 75% of retired Greyhounds, hoping to place all suitable hounds into new homes in the next 2 years. If successful, South Australia will be the first state to achieve this goal! There's still a long way to go and they would love your help too.
Here are just a few ways that you can support the Greyhound Adoption Program SA:
Foster a Greyhound: Whilst they are well-cared for in the kennel environment, these Greyhounds benefit from time in foster care prior to adoption. This helps them adjust to life in a domestic environment. The more fosterers GAPSA have the sooner they can be placed into their adoptive homes. You can foster a Greyhound as part of GAPSA 6 week program under General Foster Care – or Foster with a View to Adopt.
Adopt a Greyhound: For only $150 you can welcome the newest member of your family into your home! All Greyhounds adopted through GAPSA are desexed, wormed, C5 vaccinated, microchipped, health and dental checked. You will receive ongoing support from GAPSA and they'll come home with a green collar, lead and winter coat.
Volunteer: From veterinary care, behavioural support, health care, attendance at displays and expos, assistance on adoption days and so much more, GAPSA is always on the lookout for volunteers who can assist.
Some things that you might not know about Greyhounds:
They make wonderful and affectionate pets. They are gentle, well-mannered and thrive on human companionship. They form bonds with their owners quickly and become a valued member of your family.
Despite their explosive speed on the track, Greyhounds require very little exercise! A 20 minute walk a day or a 1 hour burst of energy at the park is all it takes – and after they will curl up with you for a snooze.
They adapt to lifestyle changes quickly. Their transition from the race track to retired pet usually happens quite quickly – which is why they are the ideal dog for fostering or adoption.
They are best suited to indoor-living which means they are a great dog if you don't have a large outdoor space.
They suit most family's living situations. As non-aggressive, calm and docile they are well suited to all pet owners from young couples to homes with school-aged children and beyond.
To learn more about the Greyhound Adoption Program SA pease visit their website by clicking here.